I've been thinking adding a contributor for along time, but it wasn't until I met Megan Bachmann that I decided to do it. Megan is a mother and has a great sense of style and aesthetic. She has a background in fashion, passion for interior design and writes her own blog, Otomi Home. I'm thrilled to welcome Megan to Simplified Bee!
>>>>>>>>>>>>>>>>>>>>>>>>>>>>>>>>>>>>>>>>>>>>>>>>>>>>>>>>>
Thank you Cristin for the sweet introduction. I am so excited about olive green as an upcoming color trend for 2015. Elle Decor recently did a feature on up & coming colors and I'm particularly excited about this one. Olive green is so lovely in interiors because it borders between being a neutral and a color, depending on how you use it. It can be bold or subtle, modern or traditional. It looks amazing paired with a multitude of colors include white, black, navy, orange, and turquoise. And of course it looks incredible paired with brass accents. Olive green just feels new again. Here are some inspiring rooms using olive green…
The olive green walls and velvet sofa feel luxurious and moody in this room in Barnaba Fornasetti's residence in Milan.

(source)
The deep olive green tub anchors this bathroom created by Melbourne based Architects, Hearth.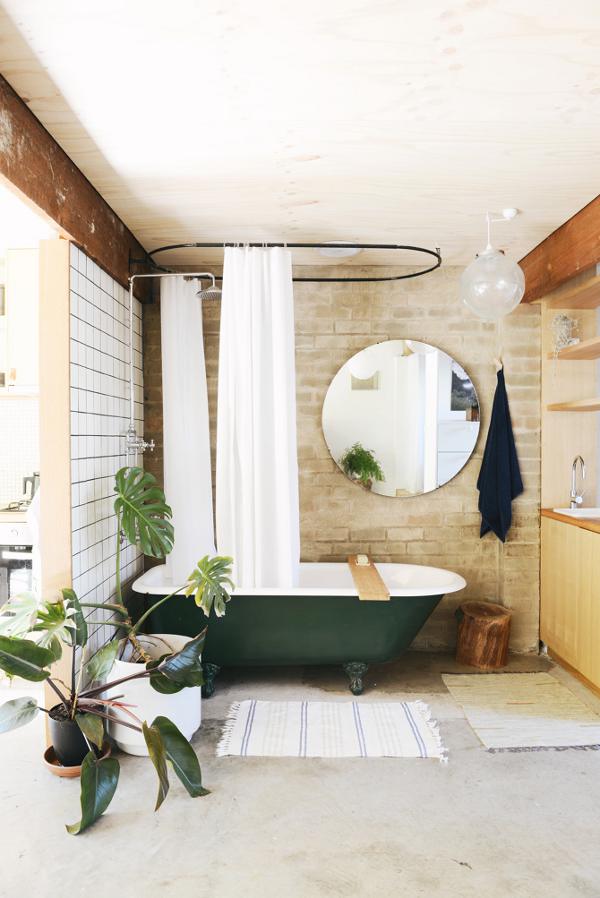 (source)

The olive green walls and upholstered ottoman are totally on point in this room from domino.
(source)

An old standby room, also from domino, the olive green curtains act as a neutral and help to keep the turquoise painted room sophisticated.
(source)

Olive and green and deep navy = perfection.
(source)
Loving this olive green kitchen paired with white marble by Sydney based Architect Greg Natale.
(source)
And last but not least, Jenny Komenda from the Little Green Notebook, recently designed a bathroom in olive green which looks amazing paired with those brass and black accents.
(source)

(source)
As you can see, there is good reason to have olive green on your radar for design trends in the next year. You can read about another color design trend at Otomi Home today, Glossy Blue!